(We actually call it E.S.C.A.P.E. - Encourage Self-Confidence through Aerial Physical Encounters.)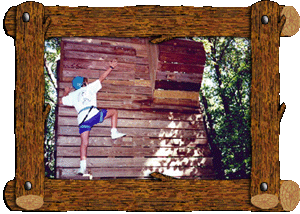 Deep in the oak woods of Blue Bell a cluster of wooden structures is integrated into the natural setting. Built in, on, under, around and above the trees are a myriad of ladders, towers, walls, A-frames and other structures where boys learn to solve problems using "their bodies, their brains and their buddies".
With a different program tailored for each age-group, boys are challenged to help each other over an 8-foot scaling wall, walk a cable 12 feet above the ground, learn trust-falls, walk-the-plank, rappel down a 25-foot wall, climb the rock-climbing tower, zip down a cable over 1/10th of a mile long to a splash-down in the pond, and (if they dare) try the hair-raising pamper-pole (a leap through mid-air from a 22-foot pole to a trapeze suspended from trees 15 feet away).
As boys challenge themselves to reach new heights, safety is given top-priority. Our helmets, harnesses and hardware are designed for rock-climbing adventures and our staff are trained by the nationally recognized experts in the field. Each element is taught as a separate skill, with discussion before and after each event to ensure that everyone is part of everyone else's success. Each camper is free to progress at his own chosen speed. This is the place where big chunks of growing-up take place!